Hello everybody
I thought some of you might want to know something about a little boy who grew up to be a photographer.
Some of my childhood recollections take me back to family gatherings in the late 1950s when some of us would sing or act out a little play, do something on a piano, tell a story or possibly just gather around the radio. This was a quiet and peaceful time with no talk of terrorism and the nation at a peace with itself, starting to enjoy once again the fruits of real peace and affluence after a generation of war and poverty. Someone in our family always had a camera, I was never conscious that any of us at the time were "photographers", "musicians", or "artists" as such of any description, it was just how it was - it was just what we did.

I seemed to often end up with a little Kodak bellows camera in my hand and my dog, a boxer bitch called Prima who I really loved, by my side. Prima and I went everywhere together and with my friends we used to take our bikes and explore the countryside of rural Berkshire and Hampshire. Its a shame but children just can't do this type of thing today. The summers were long and hot and there always seemed to be picnics, lots of hugs and a warmth that is somehow sadly missing in today's material society.
Looking back I was in many ways very fortunate, although life was not always to stay idyllic and our family like all families was to meet its share of ups and downs, illness, break-ups, and set-backs.
My early education was at a Quaker school in Reading. Although I did not attend Crossfields school for long, I have never forgotten the kindness shown to me by the Quaker community, and have always remained fascinated by the link between the Quaker philosophy and chocolate! I can't remember excelling in anything very much except that I had taken a keen interest as a 6 year old in learning to play the violin and singing. This was followed by a change in schools to a prep school in Paignton where I boarded following in the footsteps of my father. In today's climate there is a lot of criticism of some of these old dusty, almost Victorian prep schools, with their strict rules and enforced deference, though much of what I learnt in those early years has stuck with me and has held me in good stead for most of my life. Their values by today's standards would be considered old fashioned and stuffy but I still believe that the attention given to detail and the importance of good manners and punctuality that they taught us, speak volumes.

It was during my days at this small Westcountry school that I was seriously introduced to the chemistry and physics of photography. Aged about nine, our school photographic society was run by a schoolmaster whose knowledge of science finished somewhere around 1918!!! With virtually no funds he taught us to build our own equipment, including the cameras and enlargers, how to mix the chemicals and thus produce a photographic image. It was not long before we children were starting to photograph all sorts of subjects and producing some really quite good prints. I remember how we all seemed to be asking our parents for a "proper" camera that Christmas.
My first "proper" camera was a Kodak 44A (or was it a B?) which cost 19/6d brand new, or in today's terms 97.5p. It took 127 roll film, had two exposure settings, no shutter speed adjustment, a screw-in connection for a bulb flash unit and was entirely built of a the new grey coloured plastic (which replaced the brown bakelite). It was classed and sold as black and white camera. I was very proud of my new camera. I remember some of us being slightly envious of one little boy who had a real 35mm camera. It was an Halina Pet, all chrome with the words Empire Made stamped into the base plate. His camera had shutter speed and exposure adjustment and may have even been fitted with a flash shoe. I think it must have cost all of about £3.50. He was a very nice child and we just knew him as Dixon - not surprising really that he had a better camera when that name, his family's name, dominated the high-street for cameras. Dixon's camera could also take colour film. Somehow the whole nation was duped into thinking that some cameras could only take black and white, and that only other more expensive cameras could take colour as well. How Kodak and the other film manufacturers allowed this misinformation to perpetuate the photographic industry, I just do not know, as in fact all cameras can take both colour and black and white film (just in case any of you out their hadn't realised yet).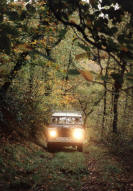 With my new camera and our school darkroom I produced many photographs. We were taught to see; watch how light and shadows worked together and the meaning of texture and form was explained to us. I remember I took a photograph of a miniature steam train, which was entered into a photographic competition. To my complete surprise the photograph won. Somewhere I have a certificate that tells me that I am the Young Photographer of the Year for the Southwest of England 1959. I don't know any more about the competition and I am truly very grateful to that elderly science master who kindled my early enthusiasm in photography and who saw something that was possibly worthwhile in my early attempts.
Around this time my father decided to the move us to the Westcountry and he bought a derelict manor house dating back to the Doomsday book that was dropping to pieces, and which he had no idea what to do with. We were moved in as a family to this great house with holes in the roof, no electricity, and ghosts in some of its fifty-four rooms. Some of these rooms we did not discover until we had lived there for several months. My sister and I used to go to different parts of the house together because we were frightened of getting lost or just plain frightened! I remember having a tree in my bedroom which

grew in through the wall and then up and out through the ceiling and roof complete with wildlife. We often found a cows or sheep in the house with us, due to the fact that the next door farmer had taken to using the land for years and the livestock had found their way into the house for warmth and shelter. Water had to be brought from a spring outside and was the most beautiful soft water which turned azure blue as soon as you dipped your hands into it. This was due to the copper residue in the water. Subsequently we learned of the arsenic and other minerals contained in the water which were, miraculously in just the right quantities to pep up anyone suffering with heart problems. We had a lot of old dears who loved our water and swore that they would never have walked the slight hill to the local post office to collect their pensions without it. Needless to say health and safety regulations eventually came in to put an end to that. The grounds had once been wonderfully managed with Victorian gardens, including great rare shrubs and trees which had all become wildly overgrown; with woodlands, fields, ponds and a stream, I even had my own island called Anthony Island. Honicombe was simply the most idyllic location in which young children could grow up.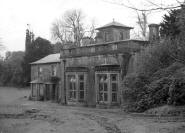 "Little Ant" as I was often called was entering adolescence and starting to grow up. The name stuck though, thank goodness without the "little". I've always prided myself on being the first 'Ant' as such - I suppose it was inevitable with my father being a 'Tony'. I can always tell when people don't know me because they call me Tony. With a change of school and a failed violin scholarship due to not taking the right music into the exam I had just scraped into Kelly College, a minor public school in Tavistock, Devon by Common Entrance. I always felt bitter about that failed scholarship as I could have walked it and I think it proved to be one of those strange milestones in life, not to mention the school fees it would have saved my poor father - ah but that's another story for another time.
As I grew through my teens I did not find school easy. My school reports were simply dreadful, I was always in trouble

and we received some savage punishments by today's criteria, including caning. I always seemed to fail any test going, yet I loved languages especially French and Latin and I could melt into any historical landscape or scene. It was always considered really "uncool" to be in the choir or the drama society. Most members were press-ganged into the choir but I joined it of my
own volition to the amazement of some of my "cool" friends. I got away with it, as I could hold my own on both the rugger and cricket fields. Anyone who has experience of any kind of institution such as prison or the forces will understand exactly what I mean here! I remember being warned that if I was caught playing the chapel organ again I would be in for a caning - well I ask you. Photography seemed to get sidelined for a while, nobody seemed interested and there was no darkroom to my knowledge. Instead music became very serious to me and I started to write my first few pieces.
The winds of change were starting to blow through the cloisters of that institution, as I put down the violin and picked up my first electric guitar.

In the middle to late '60s, Rock'n'Roll was considered very subversive, disrespectful, meaningless and of no talent - oh how lovely - what I had been born for. Like a virus it spread through our every culture and it was our generation that changed that particular schools' approach to the new society. Rock music together with its poetry, literature, art and dress was given a new freedom of expression which has lasted to the present day.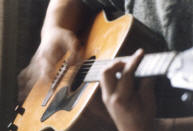 As various bands were formed and broken-up in and out of school, I was becoming very conscious of the revolution which seemed to be taking place even in far off 'swinging' Devon. Family holidays became travel and backpacking. The music, singing and violin playing within the family, became sweaty little half-lit backstreet clubs with student friends; spending endless hours in guitar and record shops, and being told to get a haircut...the 1960s had arrived!

Eventually these wonderful days which did not always seem so wonderful at the time, had to come to an end and friends started to break up as work, university, marriages, careers, and real-life took over.
Somehow my life was put on hold as I was tied into our family business which had now become quite a large holiday establishment with caravans, camping and holiday bungalows, situated around the old manor house, with a separate mobile homes park for retired residents. At about this time we seemed to undergo a complete upheaval as our family was hit by one trauma after another including break-ups and serious ill health. I really didn't want any part of what was happening but sometimes you just have to get on and do things you don't want to. Actually I became a lot more sensible and responsible (some might have a different view!) We were always building and renovating, digging trenches and working very hard. Responsibility of looking after almost a thousand people a day on holiday, and making sure that their accommodation is right, and that they are happy and safe with responsibility for quite a number of staff tends to concentrate the mind. It was rather like living in a permanent state of Dunkirk and Faulty Towers - somehow coming through whatever the crisis.

It was an opportunity where I was able to learn good business skills and practises. During this time I travelled quite extensively always taking a camera with me. I also produced all the marketing material images for the business and finally realised that I had to make a decision as to what I really wanted to do. Recklessly, in the opinion of most around me, and to the sneers of many others, I wanted to follow a serious career in either music or photography.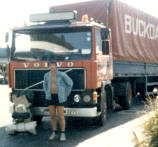 I chose photography......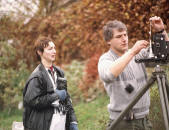 The business of Anthony Mosley Photographer was started in 1985, following a couple of years working as a photographer in various parts of Europe. I had always been excited and drawn to the work of photographers that struck me as having something to say. All the obvious ones were there such as Kartesz, Man Ray, Hamilton, Capa, Bailey, Cartier Bresson, Doisneau, Lissete Model and far too many more to mention here. Their influences have no doubt touched my own images here and there for which I make no apology. I remember being so moved by other peoples work of a much lesser standing than these great names that it made me angry at what I considered to be my pitiful attempts at making images. I read every magazine old and new that featured good photography, read and read photographers biographies, went to every exhibition or gallery possible. I needed to get inside the minds of photographers both living and dead. Most of my early work was centred around documentary and editorial photography, covering musicians, theatre and stage

work, some news and human interest with some quite different portraiture, some of which I am still quite proud.
At this time my passion for photography was so intense that I believed I really was going to be the next great war, fashion, still life, documentary and landscape photographer all at once. Well you must have your dreams...! In deciding to come back to England I wanted to be able to make my living fully from photography and therefore became much more involved with mainstream advertising, commercial and press work. Working for both national and regional newspapers and magazines, I thought I was on my way. It soon occurred to me that speculative freelancing for newspapers was not the way to pay a mortgage and that I had to get known in my own right for my own work.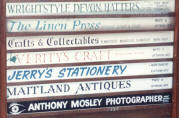 In those early days I took small stalls in various art and craft markets showing my work and selling limited edition prints. Finally I became a regular in Tavistock Pannier Market which has always been a super Westcountry market, selling everything from fresh vegetables to porcelain and hand-made hats. I have always thought that Tavistock Market is an ideal place to try anything out, if it will work there its probably going to be a winner. This enabled me to get known in the area and to bring work

to my little business. Apart from selling prints there was a good range of books on photography, second hand and collectors photographic equipment and an area which handled photographic commissions. It also became the meeting place for many would be and aspiring photographers as well as somewhere where the older generation of retiring photographers would tell you how it should be done properly and how they had to do everything on "large plates" - the mind boggles. At the same time, and of course living in a very rural part of the country, I became involved with the agricultural and food industry, which was just starting to get very political. Europe was starting to play an increasingly important role in the livelihood of those involved in our traditional agricultural industries. Health and safety issues were being brought into all industries and were changing the old traditions. The words "marketing" and "public relations" had also arrived. We were now heavily into the 1980s.

The little business was starting to grow. With an office at home and my Collie X Wellington or Welly, who became a

partner in the business (see the note paper) I was starting to travel the length and breadth of the UK, photographing cattle, sheep and pigs in all sorts of remote and wonderful locations for small specialized breeders, breed societies, AI companies and, other agricultural and food subjects, for some of the best known names in the high street. It was a lonely business at times and not conducive to sustaining good relationships with girlfriends. Wellington and I at that time were very much loners and seemingly against all the odds to make a living, we were determined to succeed. Away for weeks at a time, bedding down in the straw with the cattle or seeping in the back of a cattle lorry - it is a very humbling experience to live one's life with these majestic animals. I owe a great deal of thanks to some of the pedigree cattle breeders that I met at the shows. Taking me completely on trust and always allowing me to bed down with their valuable prize animals, I remember the Frith family for example who bred Herefords from Kent. In those days there was much more of a sense of camaraderie and trust. They together with others in the breed educated me as to what was a good animal, what a backend should be like, how an animal should walk and the other fine points of these beasts. The same applied to breeders in many of the breeds- the Angus, the Highlands, the Welsh Blacks, the Shorthorns, Ayrshires - some of the continental breeds too. I remember Welly and I at the Royal Bath and West show, the Kent County Show, even at the Royal show, when these shows were in their heydays living an almost nomadic life. You wouldn't be allowed to to that today -"health and safety". I was always being taunted about how to photograph a bull correctly by those who had been in the job so long they could speak of photographers long since dead - and some still very active that I would come in time to meet and get to know very well!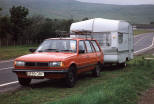 There were times when you wanted to throw in the towel, especially when no one wanted you to show any creative inclination and wanted a photo that was taken in the worst way possible. Or you found yourself at the behest of the "PR girl" with all the power and no practical ideas. This was all part of paying ones dues. You keep your eyes open, your mouth shut and "no-one counts too much".
It must have been all worthwhile as both Welly and I became known at all the industries major events. The industries that I work in, although worth mega billions, are small with regard to the movers and shakers. If your work is poor or

you give a bad service you don't survive.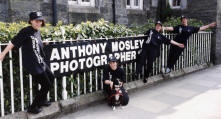 Life on the road slowly improved. The vehicles got more reliable with my faithful old Peugeot 305 Estate giving way to an equally faithful old Land Rover "Emma". We then needed a large van and a more up to date 4-wheel drive - hence today's Transits and Discoveries. The days of sleeping with the cattle seem to be over! It now has to be a smart hotel, if you're taking staff photographers and office staff with you or a luxury go anywhere caravan when its just Wellington and I away for a few days.
Soon it all got a bit too much and I realized I could not cope totally on my own, the business was growing quite rapidly and I took on other photographers for some really large projects and a full time assistant/secretary. The office was expanded. Typewriters went and in came computers with word processing and

accounts packages. Around this time I pulled out of Tavistock market due to the amount of photography work that I was undertaking. Various services were changed and new services introduced, leaving most of my work linked to advertising, corporate, press and public relations work, and also offering a really good service in wedding and portrait photography.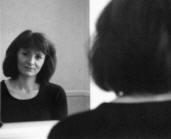 I have to mention at this point of my life that I had just got a job to cover some dairy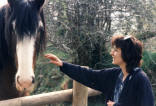 cattle sales at a local market. I used to take the pictures and then report to a young lady who would go through my pictures and decide what pictures would be published where. Quite often Wellington would dash up the stairs to her office before I could get there and sit by her, unbeknown to me, she was probably giving him biscuits and treats as well. I then realized that perhaps she was my sort of girl, as she thought a lot of my dog. Slowly we got to know each other through this work, and I plucked up the courage to ask Miss. Sarah Harris if she would like to join me for a drink (not very original I know).

To cut a long story short Sarah and I married in 2000 and she left her job and now works with me in the business. She has the patience of a saint, loves animals, has an expert knowledge of farming and rural affairs, being a farmers daughter, and always leaves me slightly wondering what the real truth is when she remarks "Well, of course it was Wellington who pulled really."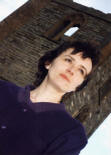 The 1990s came and went with the introduction of the digital revolution, websites, the introduction of digital imaging and cameras, and a complete new learning curve and vocabulary. Can I do this I thought? Well I have to admit I have had to struggle with all this new technology. Its a strange world that we live in when something so new and fantastic arrives that you have to have it in your business; no one really knows just how good it really is, because before the supplier, let alone you yourself is fully conversant with the equipment or software, it is out of date and we are being urged to move on again to the next great technological wonder - which strangely, probably is a wonder, as was the previous - but will we ever get to really understand how to use it?


Being so involved with the agricultural and food industries, we were hit drastically by the effects of the Foot and Mouth epidemic in 2001. Along with many other businesses in the country, the knock-on effect of the epidemic was almost financially ruining to us. We lost nearly all our income for a year due to whole areas of the country being closed. There were no agriculture or food industries that you could get anywhere near, even country hotels were off limits for weddings. I remember only too well how Sarah and I took our display boards to supermarket foyers and just looked for any type of photography work that we could get. Back with a stall in Tavistock market we went - my goodness we gave some good value in that year of 2001!
During the crisis we considered our future and decided to start a new small sister business as a complement to

Anthony Mosley Photographer, which produces the commissioned photography and related services. The new business was to be an idea for a picture library that I had had for several years, but never found the time to put it into practise. Foot and Mouth certainly gave us that time. We built a photo library primarily directed at those in the agricultural, food, livestock, rural affairs, and events industries. The library would revolutionise the traditional forms of picture libraries available at the time. The images would be royalty free viewable over the internet and paid for with a one off payment. The business is called Acquire Image Media.com and was not so much another business but a brand with its own

identity.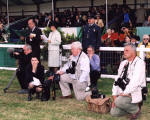 It was proving impossible to get through the difficulties that were facing us without selling the very equipment that we should have to repurchase as soon as the epidemic was over. We were advised that the foot and mouth crisis would be likely to last for the best part of a year. Most of the advice and predictions with regard to FM at the time had been proved to be wholly inaccurate. I decided to fall back on the musical career that I never had to make up the difference and hopefully save the day.

On the road with guitars, mikes, amplifiers etc with a solo set of some thirty pub gigs around Devon and Cornwall entitled "Backtracking" the one-man shows included a selection of Rhythm and Blues, Jazz and Rock with a few self- written numbers. It made all the difference keeping the vehicles maintained and serviced and the office fully utilised producing posters and organising gig dates. We had come through the Foot and Mouth Disaster of 2001. I'm just sorry we never produced the CD...
Acquire Image Media is now up and running and has a collection of approximately 10,000 images in a range of categories. Although still in its early days the business model has proved itself and images have been sold to all sorts of organisations, not only in the UK, but also in Europe, the USA and the Far East.
I guess that in many ways I'm a very lucky guy. We are all very apt to moan and complain about our lot, and like everyone else there are parts of the job I don't like very much, and I have to admit that now and again I come across people who don't do a lot for me. By and large though I have met some wonderful people
through my work who have been and inspiration to me and have provided me with the signposts that one needs in life. Although never having had my own children, which would have been wonderful had Sarah and I met earlier on in life, I am blessed with a

wonderful niece and nephew who have produced great-nieces and great-nephews, who run in an out of the office, want to play with the photocopier or the fax machine and usually eat my last packet of crisps. Wellington, now in his sixteenth year, continues to be a great friend to me and sadly is now starting to show his age and he is losing his eyesight. His intelligence never ceases to amaze me and he is quite often right when I am wrong.

As for the future - well as they say that's a long time a-coming. Certainly we have to stay with the immediacy of the age and keep abreast of the latest trends and technology. At the moment everyone thinks they can play a tune on a digital camera, but it is more than just leaning how to press buttons, I remember the first automatic zoom compacts being given to various staff members and journalists to use so as to cut costs. Dear oh dear - they never really used them enough or put in the time to learn what to look for.
Some photographers have brought the profession in parts, to the brink of disrepute.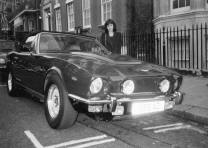 Here I am of course talking about just a very small minority of the paparazzi. In truth I would question the power of the press and especially television before I blamed the individual stills photographer. Surely the freedom of the press, which I never would have thought I would hear

myself question, cannot sit comfortably with the power to hound out of office a democratically elected minister or seriously challenge an elected governments right to govern, we might just be getting to that now - but again that's another debate for another time.
Does anyone care anymore about the art of photography or value photography as a profession now that we have become image makers in a throw away and delete society? Its certainly a question that needs some thinking about to answer, but by and large I think the answer is still "yes". If there is anything that we have learnt over the years it is that quality and service are paramount to everything and that we have to make the whole experience of whatever we do for those involved on the other side of the lens (especially if they are paying) one of relaxed comfort and confidence and that this experience is crucial to the entire picture making progress.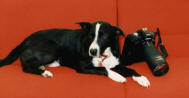 I see us as a small but growing very expert business involved predominately in the agricultural and food industry. As probably the best known photographer in this field in the UK we can now offer a level of expertise and knowledge unparalleled by others in this industry. New services will constantly be introduced so that our corporate clients will be able to benefit from value added services. Recently we have added "Corporate Portfolios", "Online Digital Proofing", "Online Photo Library", and extended exhibition and public relation services. We shall also continue to make very high quality images in our retail area involving weddings, special occasions, and portraits with a difference.
Finally, if you are still with me at this stage, let me thank you for taking the trouble to read what I have written. Maybe its that you are about to choose the photographer for your next project. Could it be some new ground-breaking launch or an image that has to tell a story and persuade an audience, perhaps its a very endearing portrait of you and your ninety-five year old granny or your wedding? Maybe its none of these and you are just browsing. Either way hopefully this has interested, amused and informed you. I certainly hope its made you feel a little bit better than you did before. Most of all I hope it has given you something of an insight into the story of a little boy who grew up to be a photographer.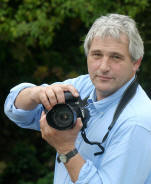 Anthony Mosley Photographer
March 2004